EF6300iSDE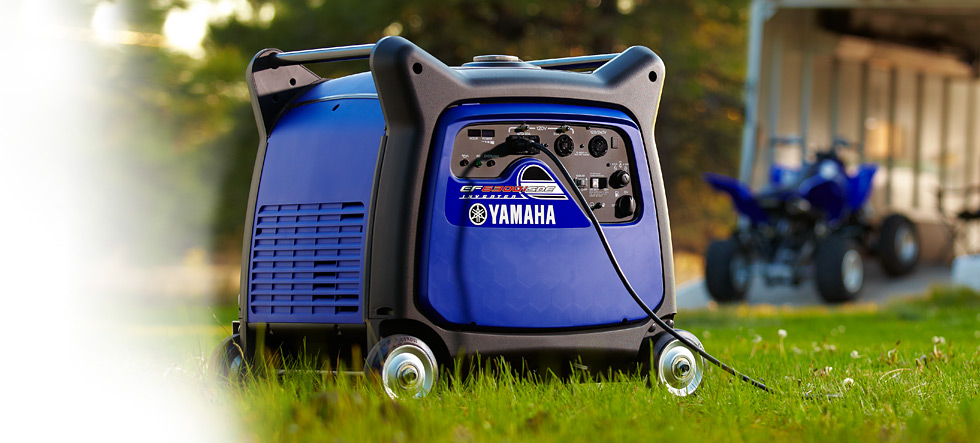 Specifications:
Blue -
Type
Brushless, Inverter
Maximum AC Output
6300 watts
Rated AC Output
5500 watts
Rated / Maximum AC Current
45.8 amps / 52.5 amps @120V - 22.9 amps / 26.3 amps @ 240V
Engine
OHV, air-cooled, single cylinder, 4-stroke
Displacement
357cc
L x W x H
30.7 x 24.3 x 27.2 in
Dry Weight
200 lb
Fuel Tank Capacity
4.5 gal
Continuous Operation at 1/4 Rated Load
13.3 hr
Noise Level (1/4 Load - Rated Load)
58 ~ 64 dBA
Warranty
3 Years Limited Warranty
Top Features:
The EF6300iSDE cranks out up to 6300 watts of pure sine wave inverter.
With sophisticated capabilities like dual 120-volt and 240- volt power, you can run almost any type of equipment with total confidence. From high-demand equipment such as well pumps, compressors and RV air conditioners to sensitive electronics like plasma TVs, satellite receivers and computers.
With its electric starting capability, the automatic choke makes for easy starting. The EF6300iSDE is ideal for outdoor recreation and power outage emergencies.
Excellent fuel efficiency means a run time of 13.3 hours at a constant 1/4 load on just a single tank of gas.
The EF6300iSDE features Noise Block sound reduction system which makes it a very quiet generator for its output; 58-64 decibels.
Yamaha's Oil Watch Warning System helps prevent engine damage from low oil and provides added peace of mind.
Features:
Noise Block — Quiet, pleasant to use
Pure Sine Wave (Pulse Width Modulation) Inverter System — Run electronic equipment, appliances, variable-speed power tools and computers
Smart Throttle — Automatically adjusts engine speed to match power demand, reduces noise, fuel consumption and engine wear
Wireless Remote (Optional) — Start & Stop the generator from up to 66 feet away
Electric start — Effortless starting (battery included)
Automatic choke — Effortless starting
Low oil shutoff — Protects engine from low oil damage
Fuel level gauge — See fuel level at a glance
Dual voltage 120/240 volt — Versatile, operate variety of 120V and 240V tools and appliances
Power meter — See how much power is being used and how much power is available
Hour meter — Shows accumulated running time for refueling and service scheduling
Lightweight — Easy transport
Twin bar — Aid lift, transport and provide security point
Stylish design — Nice appearance and Modern design
50 state legal — Meets CARB emission regulations and given highest EPA rating
Available Accessories & Options:
Accessory Cover — Added protection, includes a storage pocket for Owner's manual, tool kit, and battery charging cables
Accessory Hour Meter/Tachometer — Keep track of running time for service needs
Am/WattTM Appliance Load Tester — Gives quick, accurate readout of watts or amps used by 120 volt AC electrical devices
Yamaha Extended Service — Additional 1, 2 or 3 years of Y.E.S. is available