EF1000iS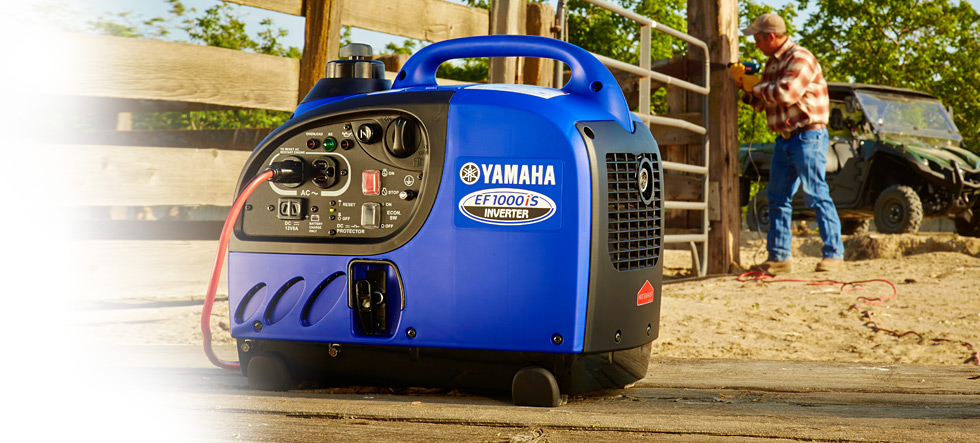 Specifications
MSRP*
Blue -
Type
Inverter
Maximum AC Output
1000 watts
Rated AC Output
900 watts
Rated / Maximum AC Current
7.5 /8.3 amps @ 120V
Voltage Stability
± 1%
Frequency Stability
± 0.1 HZ
Engine
OHV, air-cooled, single cylinder, 4-stroke
Displacement
50cc
L x W x H
17.7 x 9.4 x 14.9 in
DC Output
8 amps @ 12V
Dry Weight
27.9 lb
Fuel Tank Capacity
0.66 gal
Continuous Operation at 1/4 Rated Load
11.9 hr
Noise Level (1/4 Load - Rated Load)
47- 57 dBA
Engine Speed @ 1/4 Load
3000 rpm
Battery Charge Cord
Included
Warranty
3 Years Limited Warranty (except commercial/rental use = 2 year warranty)
Top Features
Yamaha generators have the longest emission engine durability ratings issued by the Environmental Protection Agency and the California Air Resources Board.
The EF1000iS weighs in at 27.9 pounds, making it extremely portable.
Noise Block is Yamaha's acoustically engineered sound reduction system which helps make the EF1000iS among the quietest portable generator in its class. (47 dBA to 57 dBA – ¼ rated to rated load).
Gasoline petcock lets you shut off the gas to run the carb dry for storage and helps prevent stale gas problems.
The EF1000iS features Smart Throttle, a load sensing rpm control that allows greater fuel efficiency and noise reduction by automatically adjusting engine speed to match the load. It will run up to 12 hours at ¼ rated load on a tank of gas.
The Yamaha EF1000iS inverter generator supplies clean, high quality power. The EF1000iS – with its inverter system – features Pulse Width Modulation (PWM) so voltage stability is within ± 1%, and frequency stability is ± 0.1 HZ. Its pure sine wave is as clean as or cleaner than public utilities power.
The Auto Warm-up feature automatically increases engine speed for 4~6 minutes to ensure smooth power delivery during cold start ups.
Yamaha's Oil Watch Warning System helps prevent engine damage from low oil and provides added peace of mind.
Features
Lightweight, easy to carry design — Compact lightweight alternator reduces weight to 27.9 lb., the lightest weight in its class
Smart Throttle, load sensing rpm control — Greater fuel efficiency and noise reduction by automatically adjusting engine speed to match the load
Auto Warm-up — Automatically increases engine speed for 4~6 minutes to ensure smooth power delivery during cold start ups
12 Volt DC output, battery-charging cables included — Recharge 12-volt batteries for RV, auto, marine, etc.
Exclusive dual coil alternator stator — Greater output at a lower engine speed for reduced noise, fuel consumption, and engine wear
Centralized control panel — Easy access to controls
Gasoline petcock lets you shut off the gas to run the carb dry for storage — Prevents stale gas problems
50cc Overhead Valve (OHV) engine — Noise-reducing operation with improved efficiency, increased reliability, and low oil consumption
Large fuel fill access — Wide mouth fuel fill reduces spilling and overflows during refueling
EPA & CARB Emission Engine Durability Rating — Yamaha generators have the longest emission engine durability ratings issued by the Environmental Protection Agency and the California Air Resources Board
50 state legal — Meets emission regulations, including CARB
Factory Warranty — Covers the entire generator for defects in parts and workmanship for three (3) years when the generator is used for non commercial, industrial or rental use. When the generator is used for commercial, industrial or rental use, Yamaha covers the generator for two (2) years
Available Accessories & Options
Accessory Cover — Added protection, includes a storage pocket for Owner's manual, tool kit, and battery charging cables
Accessory Hour Meter/Tachometer — Keep track of running time for service needs
Am/Watt Appliance Load Tester — Gives quick, accurate readout of watts or amps used by 120 volt AC electrical devices
Yamaha Extended Service — Additional 1, 2 or 3 years of Y.E.S. is available